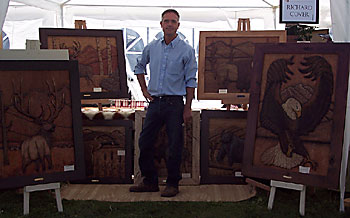 Rick Cover and his family are longtime residents of the Mancos Valley in Southern Colorado. Rick has been carving wood sculptures for better than 20 years and has a deep appreciation for nature, wildlife and the gifts God has provided. Admire the elegant beauty of these original, rustic carvings capturing the essence of the Rocky Mountains.
Every piece of Art is carved in detail and emulates Rocky Mountain wildlife in a striking pose and natural setting. In his own particular style of deep relief sculpture, Rick combines rustic charm with a touch of class. Each wood sculpture is handcrafted out of mahogany, finished with Rick's unique blend of colorants and surrounded with a beautiful frame and title plate. All carvings have a keyhole hanger in back and are signed by the Artist. The deep relief carvings are not resin copies of the originals-- they are the originals. A great gift for the outdoor enthusiast and a beautiful addition to any room, sure to become a family heirloom passed from generation to generation.
Laboring to bring these moments to life in wood is a gift from God I hope you might appreciate.
Richard Kenneth Cover